Eating beef liver can offer several benefits for mental health due to its rich nutrient profile. It contains various essential nutrients that can positively impact brain function and emotional well-being. Here are some of the benefits of consuming beef liver for mental health:
1. Rich in Vitamin B12: Beef liver is one of the best dietary sources of vitamin B12, a crucial nutrient for neurological health. Vitamin B12 plays a vital role in the synthesis of neurotransmitters, such as serotonin and dopamine, which are involved in regulating mood and emotions. Adequate levels of vitamin B12 can help improve mood and reduce symptoms of depression and anxiety.
2. High in Folate (Vitamin B9): Folate is essential for brain function and the production of neurotransmitters. It is involved in the synthesis of serotonin, which helps regulate mood and sleep. Consuming beef liver can contribute to maintaining healthy levels of folate in the body, supporting mental well-being.
3. Excellent Source of Iron: Iron deficiency can lead to cognitive impairment, fatigue, and even mood disturbances. Beef liver is a highly concentrated source of iron, which is essential for transporting oxygen to the brain and body. Ensuring sufficient iron intake can help maintain mental alertness and overall cognitive function.
4. Abundance of Vitamin A: Vitamin A plays a role in maintaining the health of the nervous system and supporting vision. Proper nerve function is crucial for optimal brain health and mental clarity.
5. Provides Choline: Choline is a nutrient that supports brain health and is a precursor to the neurotransmitter acetylcholine, which is involved in memory and cognitive function. Beef liver contains choline, contributing to cognitive support.
6. Nutrient-Dense Superfood: Beef liver is considered a nutrient-dense superfood as it contains a wide range of vitamins and minerals necessary for overall health. A well-nourished body is better equipped to handle stress and maintain emotional balance.
It's important to note that while beef liver offers these mental health benefits, it should be consumed in moderation due to its high vitamin A content. Excessive vitamin A intake can lead to toxicity, so it's best to enjoy beef liver as part of a varied and balanced diet.
As a general rule for adults, a 140gram serve of cooked beef liver eaten once a week as part of a balanced diet is considered as befificial and consumed in moderation.
As always, individual nutritional needs vary, and if you have specific health concerns or conditions, it's advisable to consult with a healthcare professional or a registered dietitian to determine the most appropriate dietary choices for your mental and overall well-being.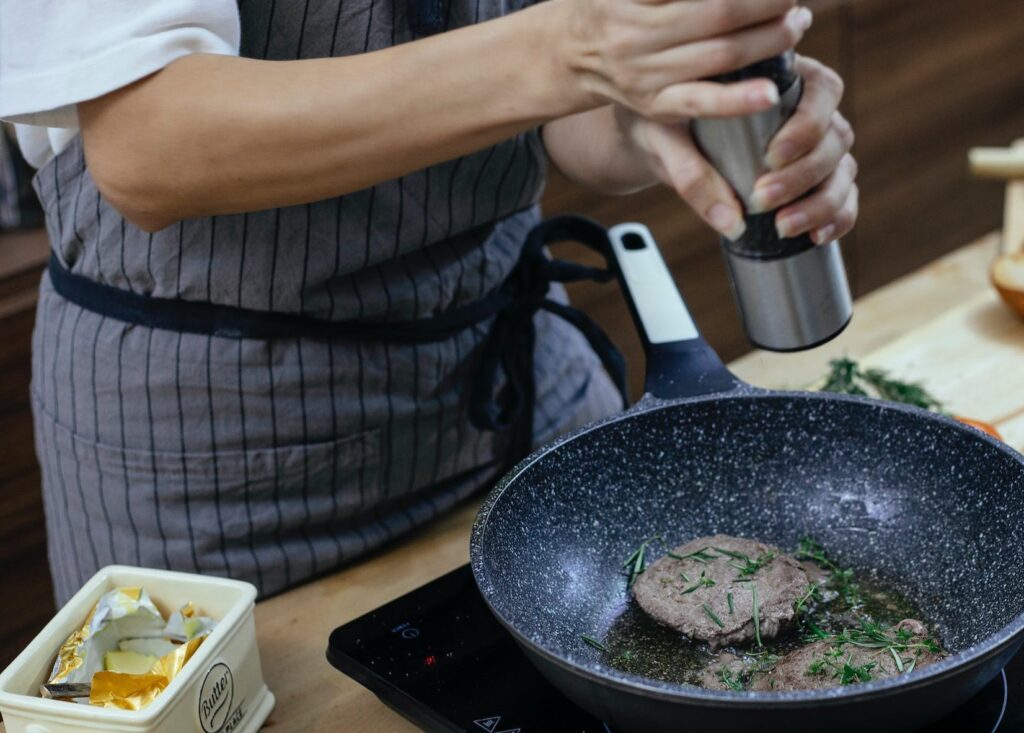 Simple Recipe – Cooked Beef Liver
For best taste and texture, soak beef liver in milk for at least an hour, then rinse off and pat dry before cooking. Preparing beef liver in this manner removes the bitter taste, draws off any impurities and tenderises the meat.
Ingredients:
300g Sliced grass-fed, organic beef liver
juice of 1-2 lemons or 3/4 cup of milk
1/4 cup unbleached flour (or gluten free flour)
1/8 teaspoon sea salt
1/8 teaspoon pepper
1 T olive oil
Preparation:
Marinate liver slices in lemon juice (or milk) for at least an hour, or overnight.
Rinse off, then pat the liver slices dry.
Dredge in a mixture of flour, salt and pepper.
Saute over high heat.
Transfer to a thermoserver or simliar to keep warm until ready to eat.