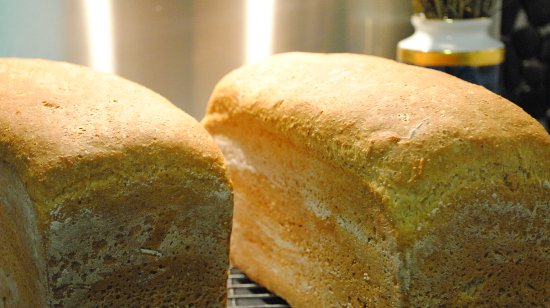 Tonight I was making bread, and thinking about the important part food plays in our mental and physical wellbeing. What we eat is the major source of building-block chemicals to keep our mind and body functioning correctly. So I thought I'd share my wholemeal bread recipe. I had written this out for some thermomix owners, but there is no need for any type of machine at all (except to mill the grain if you are using unmilled whole grain): hands, mixing bowl and spoon will suffice (and is more fun!).
I won't go into detail about the health benefits of cooking your own food except to say that for anyone who enjoys cooking, the process itself can be highly therapeutic. In addition to that, here is a link to some research from 2002 demonstrating benefits of wholegrain consumption in reducing risk of type 2 diabetes and cardiovascular disease: Whole-grain intake is favorably associated with metabolic risk factors for type 2 diabetes and cardiovascular disease in the Framingham Offspring Study
But enough of that: here's the recipe (also available as a PDF)
Wholemeal bread
Ingredients
| | Weight | Measure |
| --- | --- | --- |
| Olive oil | 60g | 3 tablespoons |
| Sugar | 40g | 2 tablespoons |
| Salt | | 2 teaspoons |
| Powdered milk | 20g | 3 tablespoons |
| Water | 480g | 480ml |
| Whole wheat | 400g | 3 ½ cups (milled) |
| White baking flour | 350g | 2 ½ cups |
| Bread making yeast | | 2 teaspoons |
Method
Mill whole wheat in thermomix for 20s on speed 10, then shake and mill for further minute.
Add ingredients in mixing bowl in the order listed. In cold weather use 100-200ml hot water mixed with cold to make the total 480ml.
Mix on dough setting for 4 ½ minutes. If mixing by hand, stir until a consistent dough texture is achieved, then knead thoroughly.
Allow the dough to rise in a warm place (25-40°) until about double in size.
Mix again for 2 minutes on dough setting; or kneed thoroughly by hand.
Place dough in a large, greased and floured bread tin and press down firmly to ensure there are no air bubbles. The tin should be large enough that the dough, pressed out evenly along the bottom, sits between ⅓ and ½ way up the sides of the tin.
Allow the dough to rise in a warm place until it is about ¾ the height of the bread tin. If the dough rises too much the bread will be crumbly.
Bake in oven at 180° C for 40-50 minutes (fan forced). Use less time and higher temperature (e.g., 30 minutes at 200° C) if splitting the dough into smaller loaves or bread rolls.
Remove from tin immediately after baking and allow to cool.